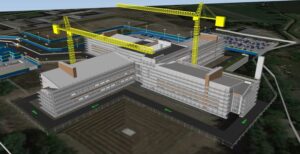 We're delighted to have worked with Duggan Brothers who were selected as the preferred bidder for the new State Forensics Laboratory (FSL) in Celbridge, Co. Kildare. This new facility will house the recently established DNA database and will provide FSL with a long awaited modern facility, which will ensure the continuing growth and development of forensic science in Ireland.
The Forensic Science Laboratory is primarily a new three-storey development with four wings that radiate from a central four-storey core. Each wing provides a mixture of laboratory and office accommodation on the ground and first floors. The total development has a floor area of 14,585 m2 and will be ready for use in 2023.
Tender Team provided a range of services to Duggan Brothers from strategic planning to tender writing, reviewing and improving, to design and final drafting.